At Express Clean , with over a 10 years of experience, we proudly extend our unwavering commitment to providing comprehensive cleaning services in Chicago. Our wide-ranging catalog of cleaning services in Chicago, Illinois encompasses not only the finest options for Airbnb, apartment, house, moving, and same-day cleaning but also includes our exceptional event, office, restaurant, and now Daycare Cleaning Chicago services. Each service is thoughtfully designed to deliver an exceptional cleaning experience tailored to meet your specific requirements.
Daycares are places where children grow, learn, and play. Safety and cleanliness are paramount in these environments, and at Express Clean, we understand the importance of keeping daycares impeccably clean. Our daycare cleaning service is designed to elevate cleanliness standards, providing parents with peace of mind knowing that their little ones are in a safe and healthy environment.
Are you ready to discover how Express Clean can make your daycare cleaner and more inviting? Keep reading and find out how we can make a difference!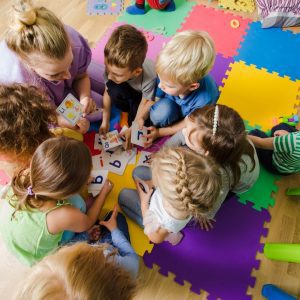 Tanwee Sengupta
2023-03-03
I would recommend Express Cleaning Services to anyone looking for a relible one.
Nurmohammad Sk
2023-03-03
I have been using Express Cleaning Services for years and they have never disappointed me. Their service is always excellent.
Rajnish Mishra
2023-02-12
"I was very impressed with the quality of the cleaning. The team was meticulous and took their time to make sure every surface was spotless. I am so happy with their service."
"The cleaning was top-notch! The team was friendly, professional, and did an amazing job. I am so happy with their service and will definitely be using them again."
. The team arrived on time and went straight to work. They did an amazing job and my home was sparkling clean when they were done."
"The cleaning team was fantastic! They were very thorough and took their time to make sure every surface was spotless. I am so happy with their service and will definitely be using them again."
The cleaning service was excellent! The team arrived on time and was very friendly and professional.
"The cleaning was top-notch! The team was thorough and efficient, and did an amazing job
"I was very impressed with the quality of the cleaning. The team was meticulous and took their time to make sure every surface was spotless.
I am so happy with their service and will definitely be using them again."
Do You Need A Clean

Playground for kids?
We offer best cleaning service Chicago; call now and schedule with us a Daycare Cleaning Services with us. 
630-425-0210
FAST AND RELIABLE CLEANING
Let our cleaning professionals polish your home.
Benefits of Choosing Express Clean
Here's why we are different:
We are the #1 Chicago cleaning services company.
Instant online booking with 9am-5pm availability

Vetted professional cleaners

Customize your cleaning

Dedicated cleaner for recurring services

Flexible schedules

Easy and secure online payment gateway

Satisfaction Guarantee
The #1
Cleaning Service
Chicago
Why Book Cleaning Services With Us?
Online Reservation
We clean for you. Select your service, enter your contact info, set the date and time. It's that simple!
Satisfaction Guaranteed     
Let our cleaning professionals take care of the mess.
Enjoy Your Clean Space
Get a cleaner experience!
How to schedule Our Cleaning Service
Select and Customize your Service
Impact of a

Clean Daycare
At Express Clean, we understand the unique needs of daycares. Our cleaning approach adapts to these specific needs, ensuring that every area of your daycare is in optimal condition.
Trained Staff: Our personnel are highly trained in daycare cleaning and understand the necessary precautions to ensure the safety of children. They are professionals who take their job seriously and have experience in such environments.
Safe Cleaning Products: We use cleaning products that are safe for children and effective at eliminating germs and bacteria. Our range of products is tailored to the surfaces and cleaning needs of daycares.
Regular Deep Cleaning: We perform periodic deep cleanings to maintain consistent hygiene. This includes cleaning play areas, classrooms, dining areas, and bathrooms. We also pay attention to high-traffic areas to ensure ongoing cleanliness.
We accept Visa, MasterCard, Discover, American Express, and PayPal. But, we don't accept cash payments and full payment must be made upon scheduling your service.
Do you need an urgent cleaning service?
We are Chicago's most trusted and dependable cleaning contractor; call now and schedule your Daycare Cleaning  Services for today.
630-425-0210
Eventually
Evidently
Firstly
Formerly
fourthly
furthermore
hence
however
last
at this point
explicitly
by all means
by comparison
by the time
be that as it may
different from
identically
lastly
at this time
finally
following
forthwith
further
generally
henceforth
indeed
equally important
balanced against
being that
by and large
by the same token
compared to
coupled with
due to
instead
even if
Express Clean uses the best brands because we care about you
Accordingly
Additionally
Afterward
Albeit
Also
Although
Altogether
Another
Basically
Because
Before
Besides
But
Certainly
above all
after all
after that
all in all
all of a sudden
all things considered
analogous to
another key point
as a matter of fact
as a result
as an illustration
as can be seen
as has been noted
as I have noted
Chiefly
as I have said
comparatively
as I have shown
concurrently
as long as
consequently
as much as
contrarily
as shown above
conversely
as soon as
correspondingly
as well as
Despite
During
at least
emphatically
at the same time
at any rate
at first
earlier
especially
Doubtedly
at last
at length
Equally
At this instant

Resources for Business Owners
Save 15% On Your First Service
No matter the size or difficulty, we adapt to your needs, location and schedule, creating a special cleaning plan to help you improve your workspace.
Get A Free Estimate in
Under 60 Seconds
For over 10 years

Express Clean
has provided commercial and office cleaning services
our track record and satisfied customers endorse the experience and the guarantee of our good service. Our Daycare Cleaning Services  are the most efficient, fast and economical.
The Best Daycare Clean Service in Chicago
Chicago, often referred to as the "Windy City," is a bustling metropolis known for its iconic skyline, deep-rooted culture, and diverse communities. Much like the city's commitment to progress and well-being, our gym cleaning service embodiChicago, a city known for its rich history and vibrant culture, is a place where businesses thrive and families flourish. In the heart of this bustling metropolis, Express Clean proudly offers its daycare cleaning services, ensuring that the city's educational institutions are safe, clean, and nurturing environments for children to grow and learn. Just as Chicago's diverse neighborhoods come together to form a dynamic community, our daycare cleaning service plays a vital role in fostering a sense of security and well-being within these educational spaces. With over a decade of experience, Express Clean is committed to supporting Chicago's daycare centers by providing top-quality cleaning services, allowing parents to trust that their children are in a clean and hygienic environment as they embark on their educational journeys.
If you don't know how to find us, we are located in one of the areas with the most cultural heritage, commercial scene and strong community life in Chicago, more precisely we are located at Address: 4076 W 26th St, Chicago, IL 60623, United States
How to get to Express Clean in Chicago, Illinois?
To contact Express Clean, it is important that you know that we are located at Address : 4076 W 26th St, Chicago, IL 60623, United States Phone : +1 630-425-0210 , as we are located in one of The most popular neighborhoods in Chicago, La Villita, Chicago.
Express Clean is a 10 year old cleaning company located in the historic La Villita area of Chicago, Illinois, located 25 minutes from Shedd Aquarium, a popular tourist site due to its impressive exhibits, variety of unique marine species, educational programs, commitment to research and conservation (how to get there from Shedd Aquarium).
Express Clean is also 20 minutes from FitzGerald's, a well-known Chicago hangout for live music and a good time with family and friends.
Finally, we are 1 kilometer from PAWS Chicago Low-Cost Spay/Neuter Clinic, one of the best pet clinics in La Villita for its mission to protect the lives of pets.
How to get to Express Clean?
Become part of our satisfied customers
The team behind this cleaning service deserves a standing ovation. They make sure every dumbbell, treadmill, and locker is squeaky clean. My gym feels like a haven of health.
I can't say enough about the incredible job this gym cleaning service does. My gym experience has been completely transformed – it's spotless and safer than ever!
Cleanliness is paramount in a gym, and this service doesn't disappoint. They've turned my gym into a pristine and motivating space. Highly recommended!
I used to dread going to my gym because of its cleanliness, but that's a thing of the past thanks to this service. Now I look forward to every workout!
The transformation this cleaning service has brought to my gym is truly remarkable. The staff is friendly, and the gym is immaculate. What more could you ask for?
My gym feels like a brand-new facility after every visit. Thanks to this service, I can focus on my fitness goals without worrying about cleanliness. Five stars!
This cleaning service has revolutionized the gym experience for me. The equipment sparkles, and the facility is impeccably maintained. It's a game-changer!
I'm a loyal member of this gym, and the introduction of this cleaning service has been a game-changer. It's clean, safe, and makes every workout more enjoyable.
I've been to gyms all over the country, and none of them compare to the cleanliness and hygiene of my current gym. Kudos to the cleaning service for making it top-notch!
Cleanliness and health go hand in hand, and this service understands that perfectly. My gym is not just a place to work out; it's a place to thrive. Thank you!
Services Areas in Chicago
60007
60604
60611
60619
60628
60637
60645
60655
60668
60680
60690
60701
60018
60605
60612
60620
60629
60638
60646
60656
60669
60681
60691
60706
60106
60605
60613
60621
60630
60639
60647
60657
60670
60684
60693
60707
60127
60606
60614
60622
60631
60640
60649
60659
60673
60685
60694
60803
60131
60607
60615
60623
60632
60641
60651
60660
60674
60686
60695
60804
60601
60608
60616
60624
60633
60642
60652
60661
60675
60687
60696
60827